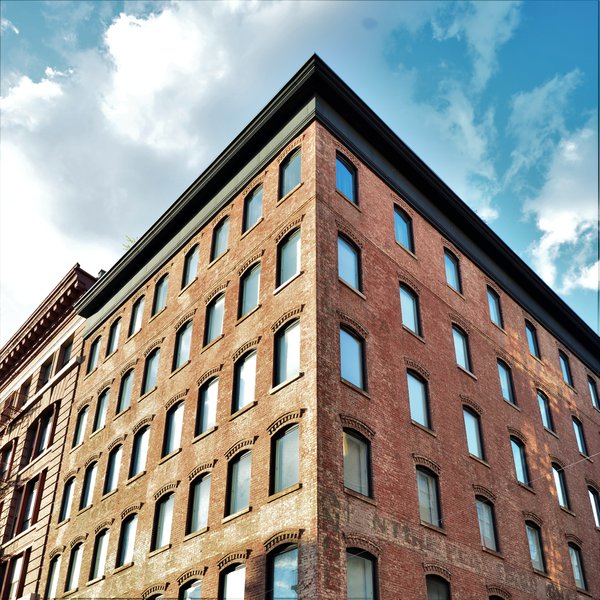 About 136 Baxter Street Condominiums
Originally constructed in 1915, the Machinery Exchange takes its name from its historical use as a warehouse for used machinery. Reimagined in 2007 as a residence with 14 units, gallerist and developer Max Protetch imparted his eye for aesthetics to the renovation of a building exemplary of New York's pre-war constructions.
The aesthetic conveyed by the weathered brick and painted band of its facade are complemented by the staid, dark greys, and modern lines and angles of the more recent penthouse and cornice addition that reference the building's industrial history, bridging the decades to create a cohesive, contemporary structure. Residential spaces are warmed by the aged hues of southern yellow pine beams and exposed brick, which are met by metallic, modern fixtures and appliances. As a standard, kitchens are accented by brushed aluminum cabinetry, and furnished with Miele ranges, and Sub-Zero refrigerators, and bathrooms are characterized by limestone tiles and glass. The penthouses in particular also feature private terraces, providing their residents the opportunity to juxtapose a bit of greenery with industry.
Situated in Nolita with proximity to Soho, its location lends itself to a pace just away from the tempo of downtown, providing a bit of privacy while keeping the city's rhythm in reach.
Interested in Buying or Renting in 136 Baxter Street Condominiums?
There are currently 1 units for sale in the building. Please click on the links below to get more information about the availabilities in 136 Baxter Street Condominiums and we will connect you with a buyer's agent.